Signal. Sonderausgabe der
Berliner Illustrirten Zeitung.
Deutscher Verlag Berlin,
1940 – 1945.
[ Galleries ] → Hilmar Pabel Private Letters
---
Here is a set of fieldpost letters by Kriegsberichter Hilmar Pabel, written and posted in 1943–1944. The letters come in Signal-marked envelopes with the postal address of the Deutscher Verlag in Berlin. They are not a vanity item which Pabel had made for himself but a bulk product and like stationery were used by the publisher's offices in their daily correspondence pertaining to Signal.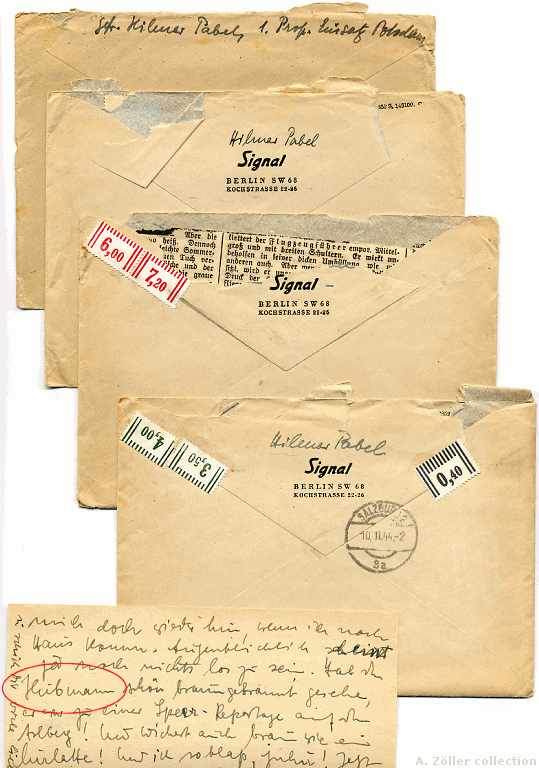 One of the envelopes has been marked by Pabel "1. Prop.Einsatz Potsdam". The unit referred to is the first company of the Propaganda-Einsatz-Abteilung in Potsdam. This was a special propaganda unit formed in 1942 as a mobile detachment for rapid deployment and focused reporting.
The first company (1. Kriegsberichter-Kompanie) consisted of so-called Höhere Berichter, or higher correspondents — selected journalists, authors, and photographers specially appointed by the Propaganda Ministry to deliver exclusive articles and reports.
The Propaganda-Einsatz-Abteilung was outfitted with two dedicated Ju 52 transport planes and a sizable car pool with which the 4. Kompanie (Propaganda-Verbindungs-Kompanie) transported the PK reports and photos from the frontlines to Berlin.
The letters discuss a number of Signal-related matters as well as the aftermath of a devastating air raid on Berlin in which Pabel was mobilized to help with the salvage operations. Excerpts have now been posted here.